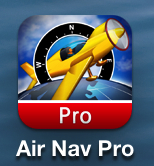 I decided to purchase Air Nav Pro for $49.99, and also got the 3D Data for EFIS "USA – California 3D data" pack for $29.99 so I can see the 3D view, as well as the 2012 Sectional and TAC charts for the entire USA for $3.99 each, totaling $87.96.
The version used on this review is Air Nav Pro 5.4.1.
Here are the reasons that got me to buy this app over ForeFlight, Garmin, or WingX:
Works with X-Plane and FSX with a small AirNav plugin (ForeFlight is too, to use FSX requires buying a $5 FSXFlight program to get it to work)

3D EFIS system for seeing altitude of surrounding terrain. Great for navigating around the terrain.
Airspace outlines on Elevation graph
Can install on all iPads and iPhones on my account, for the 1 fee.
my iPad (with wifi only) can use the iPhones GPS when in a real flight (by enabling "Share GPS via bluetooth" on my iPhone).
LogBook of all flights, with sync to the services.xample.ch site, which can export as GPX and KML: Here is my logged flights
Features I wish Air Nav Pro had:
Easy download of FAA Documents – with auto update (ForeFlight)

Airport Plates with Geo-referenced and AF/D info (like in ForeFlight)
DUATS filing (with www.duats.com) (ForeFlight)
IFR High and Low route charts
Map Overlays (Like ForeFlight): Flight rule icons for VFR, IFR), Dewpoint, Temp, Visibility, Wind, Ceiling, Sky Coverage, PIREPs, Lightning, Obstacles, Fuel Costs, Satellite (clouds), and Radar (for rain).
Here is what the map looks like when the 3D data is installed, and you are flying below the surrounding terrain.  Also, note the elevation window, and the different colored boxes outlining the different Airspaces.  This will be very useful for knowing when I'm entering an airspace, and knowing if I'm flying above or below it.