Here is a photo the day I bought it (Jan, 20, 2012)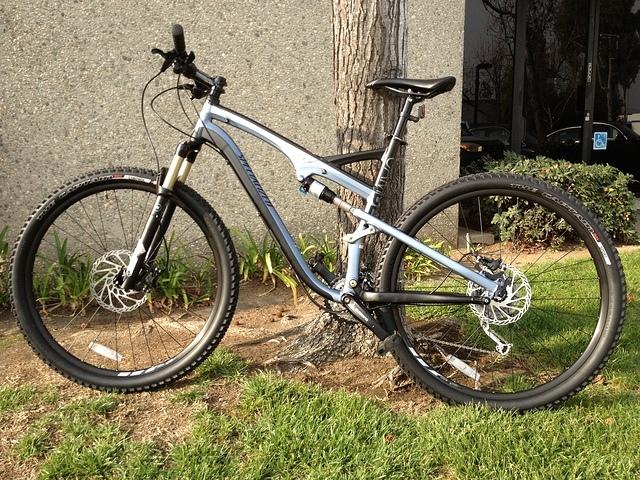 Here are the upgrade up to this point:
Wheel World in Culver City (where I orginally bought the bike) was kind enough to upgrade the wheels for me at no extra charge, when the specialized wheels were making a grinding noise in the freewheel (probably from sand), so they gave me Azonics Outlaw 29inch Wheels, more of a down-hiller wheel, heavy but stronger then the stock ones.

The Specialized Rocca grips wore out, so I first tried the Ergon GP2, which were ok, but my hands felt trapped, so I moved to ODI Rogue grips instead. Here are some pictures with the new ODI grips and the original Avid Elixir 3 RL brakes.  I liked the Elixir's until I tried the Shimano XT brakes.  The XT brakes are very sensitive, and very easy to do one finger braking.
Upgraded the tires from The Captain Control 29×2.25 front and Captain Sport 29×2.1 rear to Swalbe Nobby Nic Evo SnakeSkin's, 29×2.35 on front, and 29×2.25 on rear.
The next upgrade is the seatpost, I got a 2012 RockShox Reverb 30.9mmx420mm dropper post.
And now for the big upgrade, converting the 3×9 drivetrain to 2×10. Here is what I upgraded:
Shimano XT brakes (BL-M785-B)

XT Shifters (SL-M780B-I)

XT Cassette (CS-M771-10)

XT Chain (CN-HG94)

XT Rear Derailleur (RD-M786-SGS Silver) with shadow plus, which prevents chain slap.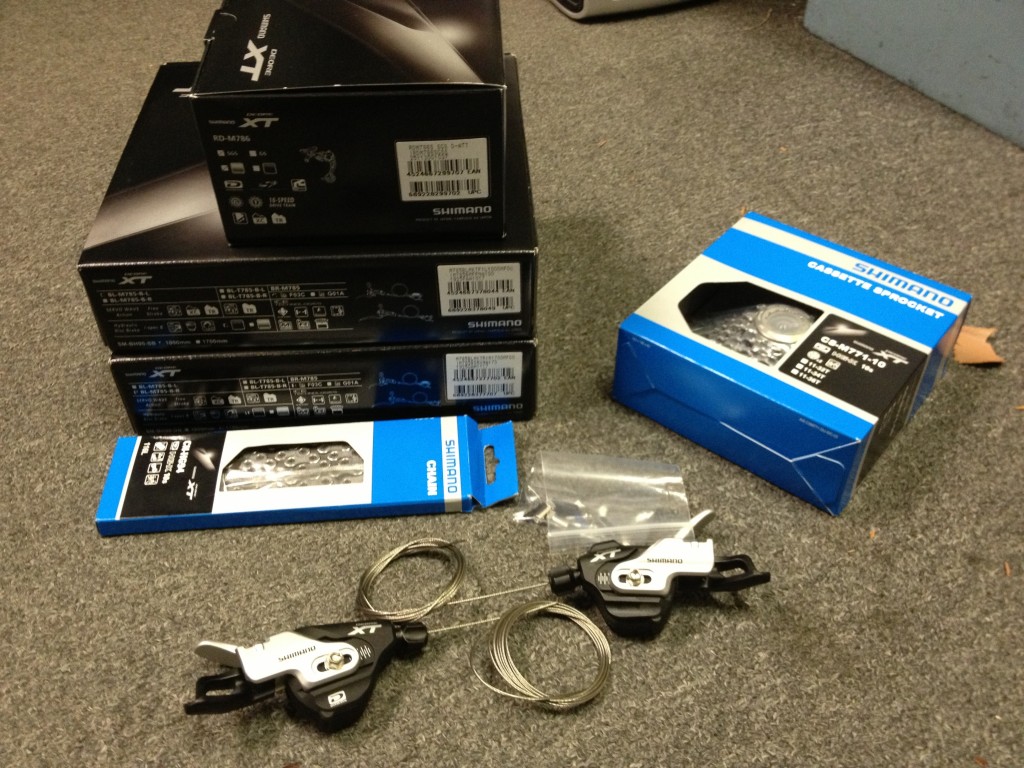 I got the I-Spec XT Shifters (SL-M780B-I) to mount on the XT Brake Levers (BR-M785-B).  I have now learned that there are 2 types of I-Spec "Conventional" and "New" (aka Type B), I got the new Type B, which is a bit strange, and doesnt secure tightly.  Not sure if there is an issue, or if it was designed to be that way.
I called Shimano and was told I'd need to send it in for them to fix the I-Spec loose issue, but if I wanted to put a washer in there instead, it'd be fine and not void the warranty. So I did the washer approach, maybe I'll send it in later.
EDIT 8/13/2012: After playing around with the washers, and wiggling the I-Spec mount alot, the mount now tightens up without adding the washer – so it seem you just have to work it a while to get rid of the looseness.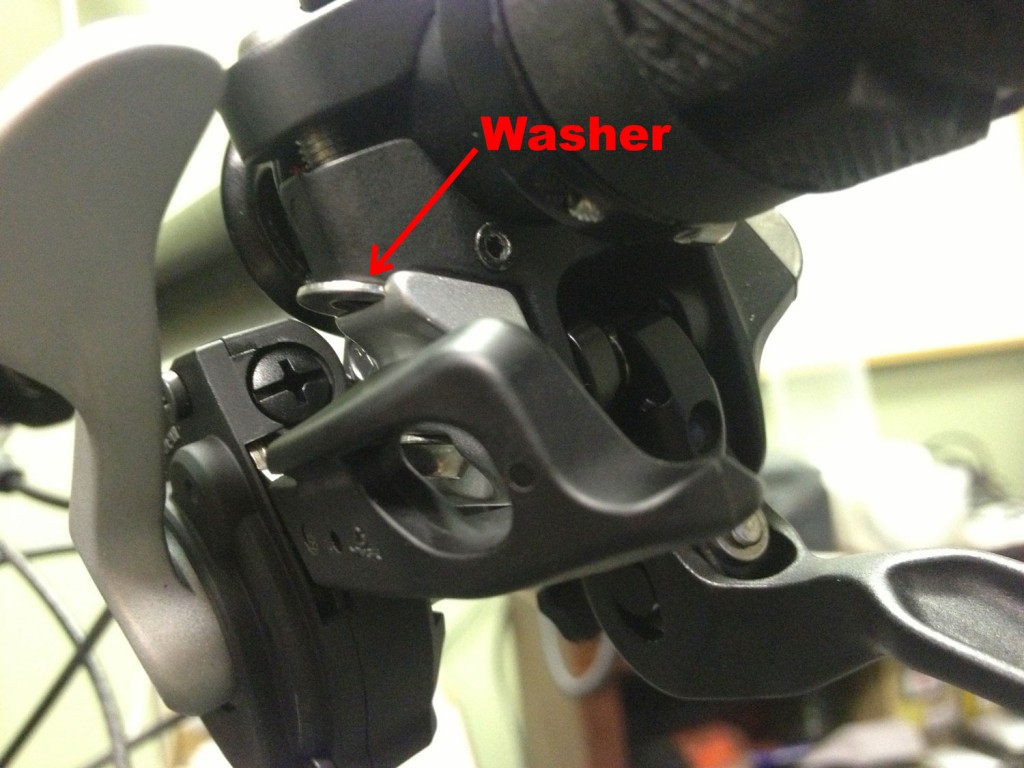 I got them all installed on Aug 8,2013. So now The Camber is mostly XT, (except for the Deore Crankset, and SLX Front Derailleur). I'll wait on the Crankset and Front Derailleur for if/when I get a new frame.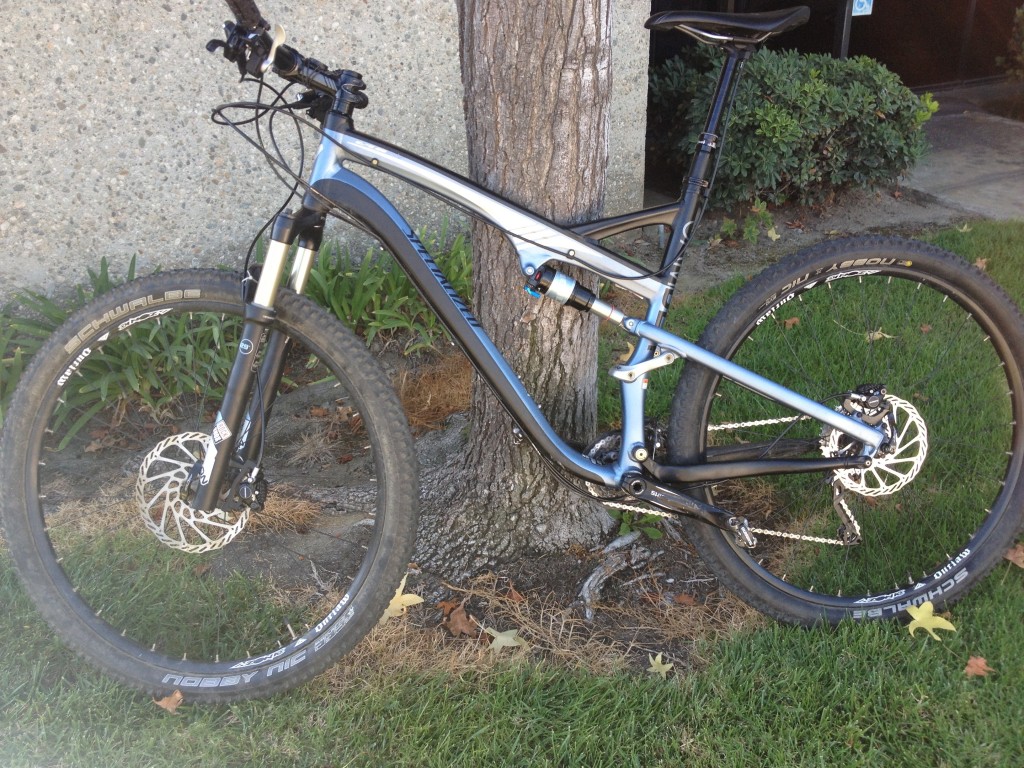 EDIT 08/13/2013:  Took out the bike for the first time on the Fullerton loop and had a bad shift on a steep climb, and broke the chain.  I dont like how Shimano chains doesnt use quicklinks, my next 10 speed chain will be a SRAM. Otherwise, the shifting was really clean 90% of the time. The XT Brake were noticeably easier on the hand then the Elixir 3's. I look forward to some long decents to really try them out.
EDIT 08/20/2013: Finished upgrade to Full XT M785 Groupset. The remaining pieces that needed upgrade include:
XT FC-M785 24/38t Silver Crankset
SM-BB70 bottom bracket
XT FD-M785-E2 (E-Type)  double front derailleur.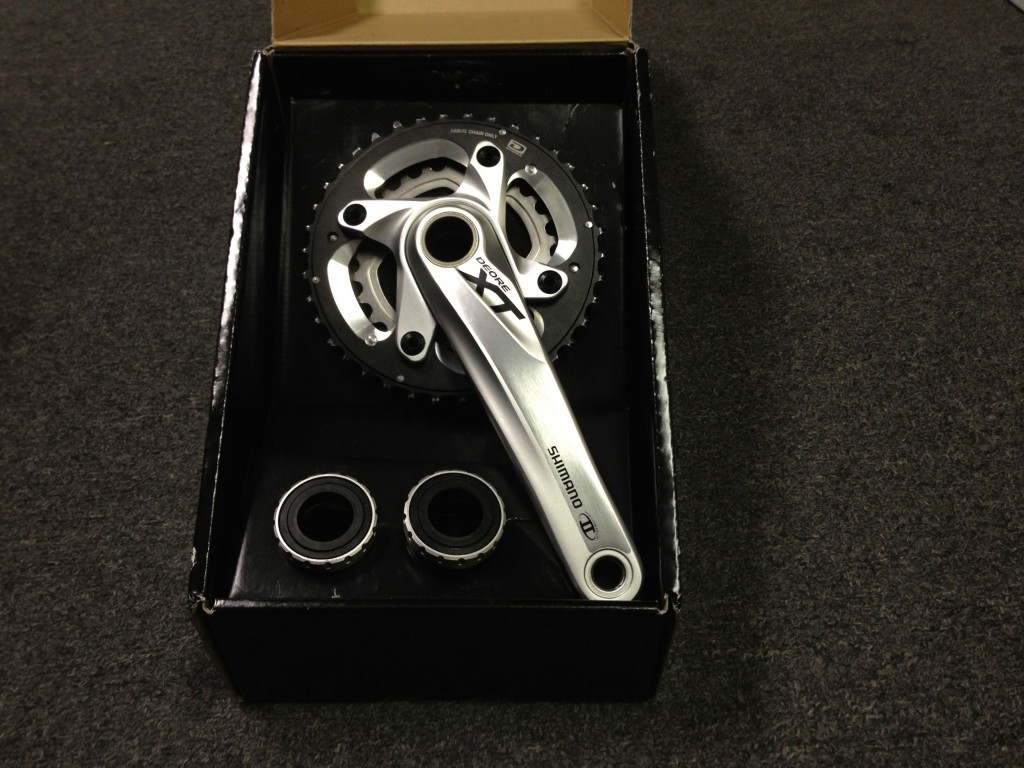 If you wonder if there is a difference between the 38 chainring on the 24/38t vs. 26/38t, the answer is YES. Here is a photo showing the difference (24/38t – AM on left, 26/38t – AK on right):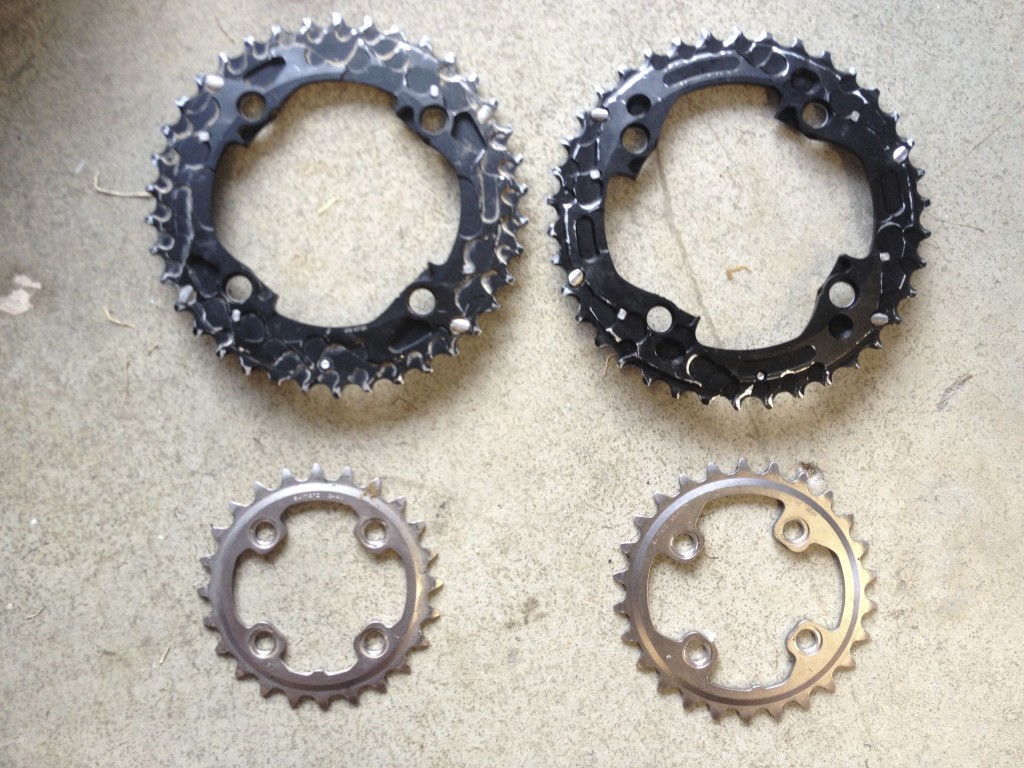 The shimano pdf shows different part numbers for them too, Y1ML98040 (Chainring 38T-AM) and Y1MK98020 (Chainring 38T-AK)
Here it is, with the Full XT groupset installed:
Edit 12/07/2013: New Rear Shock
Upgraded the rear shock due to leakage issues.  I tried replacing the seals on the RockShox Ario, but it continued to leak.  Found a 2013 Fox Float CTD 7.785″ x 2.0″ new take-off from the local LBS.  The rear suspension feels much tighter now, I'm really impressed with the new shock.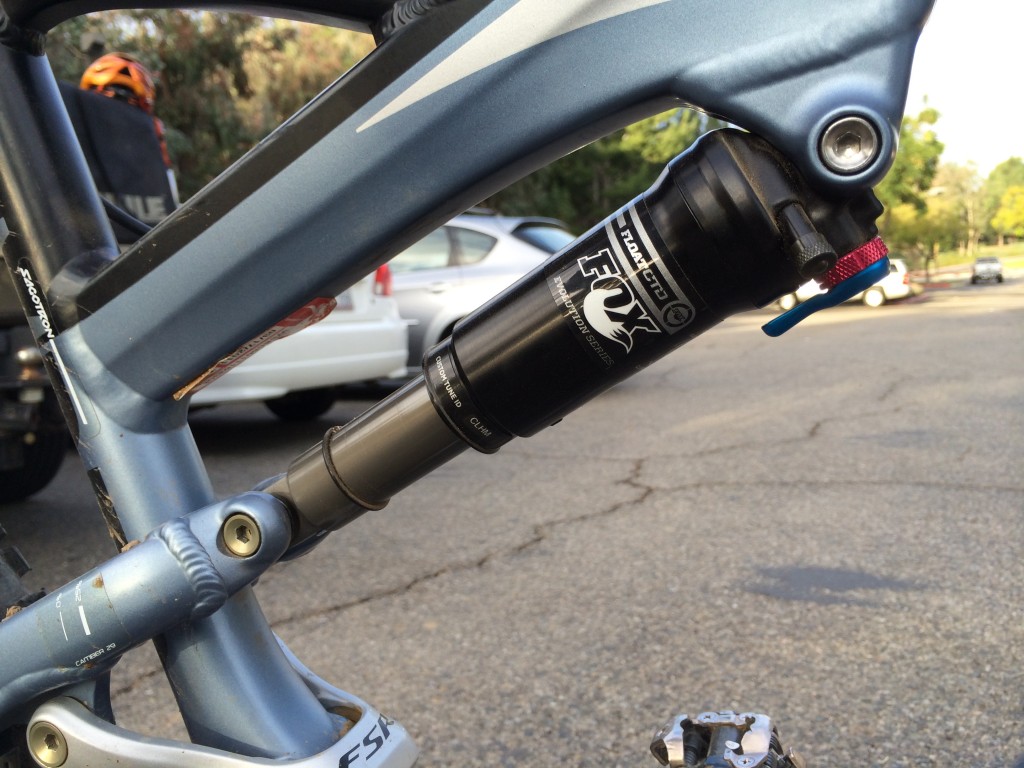 Edit 01/10/2014: New Enduro FSR Bushing and Fox Evolution Float RL Front Fork
Ordered a new set of bearings from www.enduroforkseals.com for $52, and getting them installed at LBS, since a bearing puller and press are needed.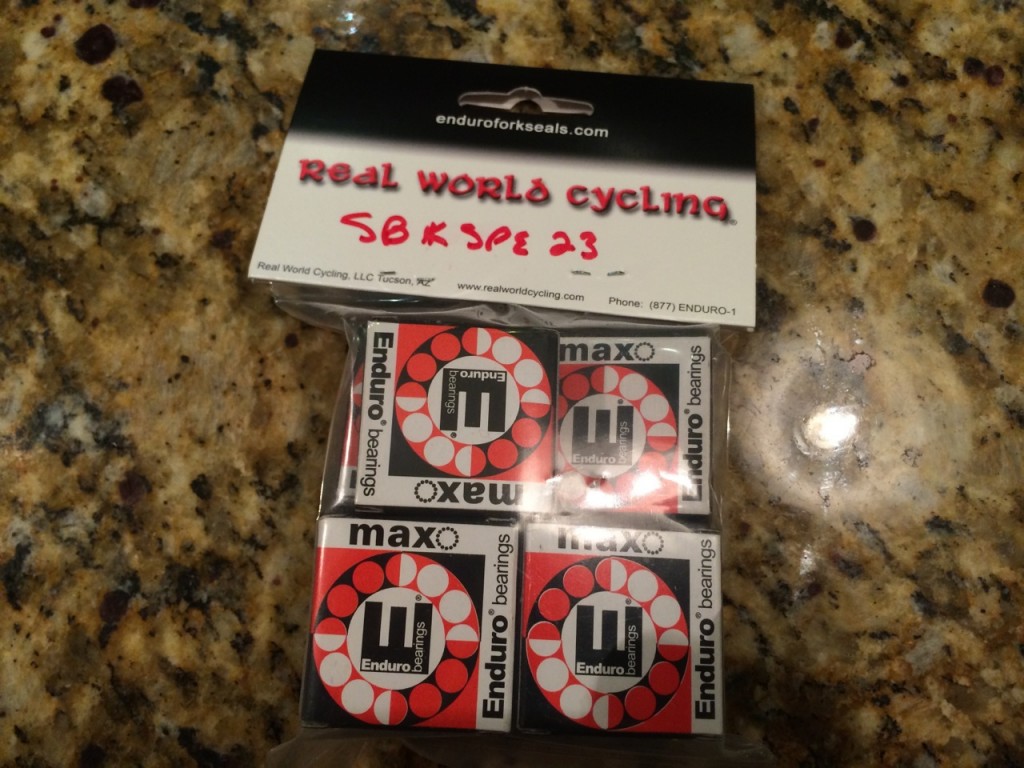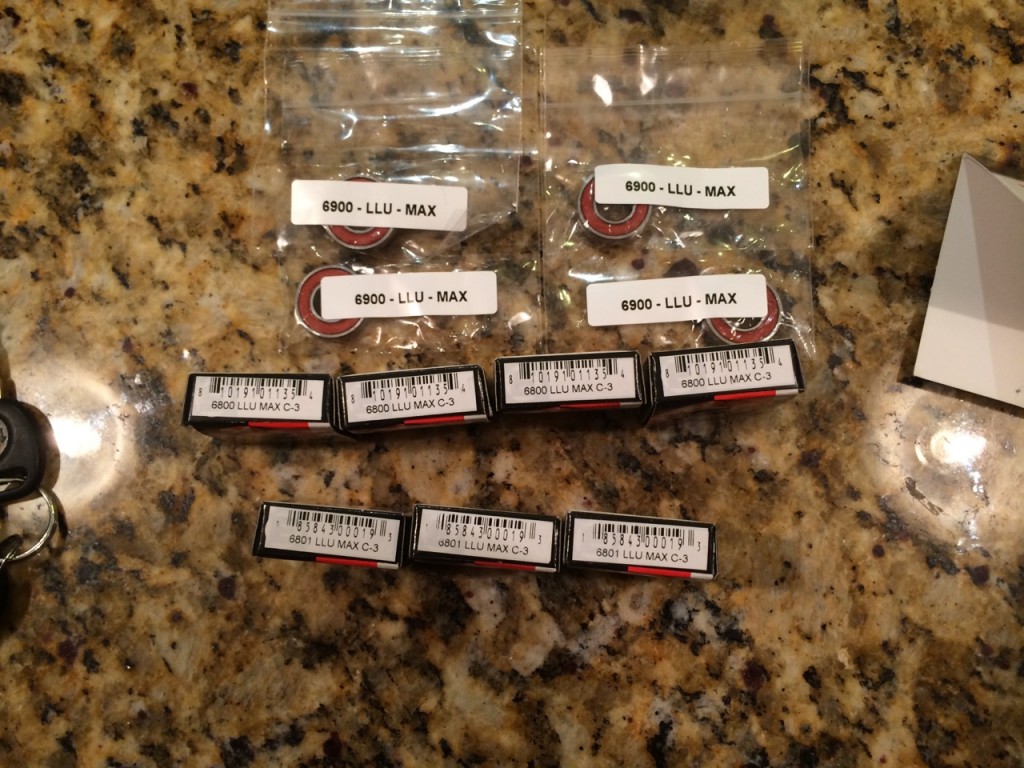 Turns out that the 2011 Camber 29 kit comes with 4x 6900, and I needed the 4x 6800 instead.  I called enduroforkseals.com, and they said that the 2012 Camber kit would have had 6800 instead of 6900. They are sending the 4x 6800's for free.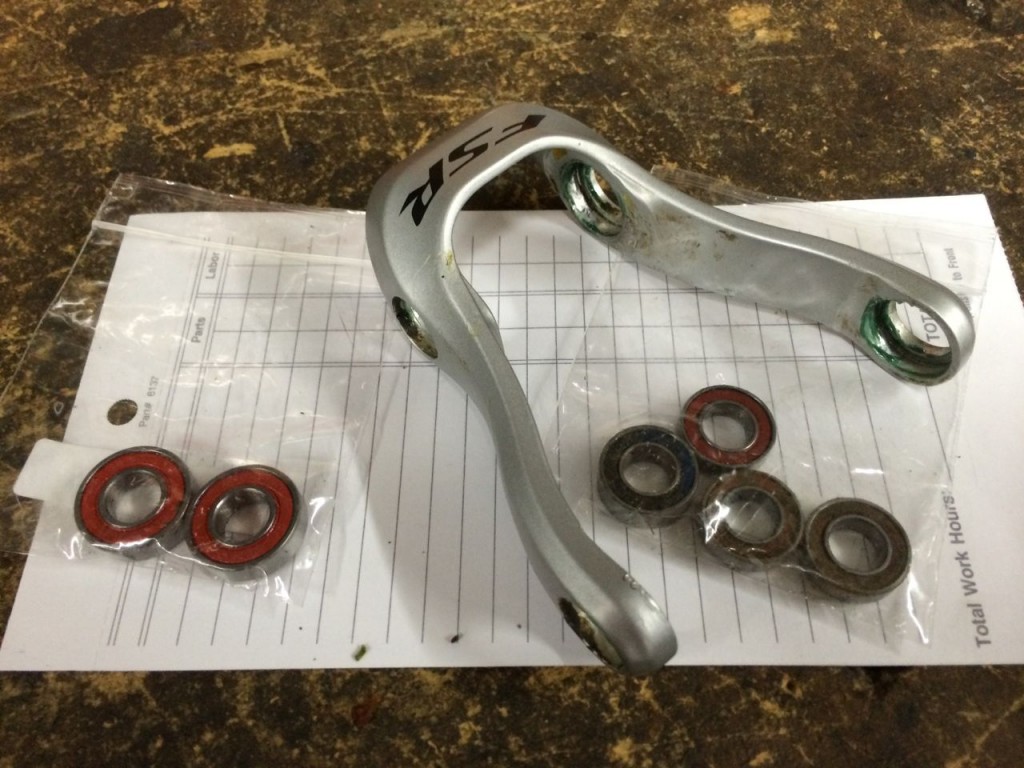 I got the new bushings in and they work fine.  It turns out that the documentation is incorrect on and should be the same as the 2012 Camber…so it wasnt Enduro's fault, they just sent me what Specialized put in the document.
Other new upgrades:
2013 Fox Float 100 RL 29 Front Fork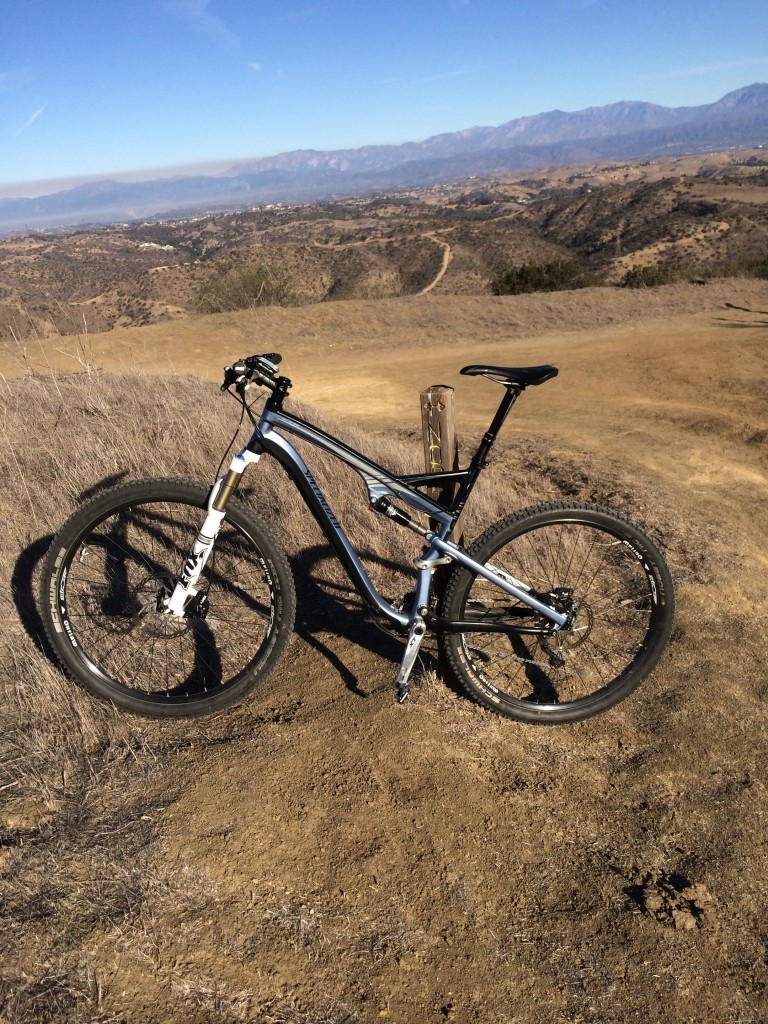 And a few more upgrades:
2013 Specialized Henge Expert 143mm
2013 Easton EC70 XC Riser Bar 685mm
2014 Race Face Ride Mountain Bike Stem 31.8mm, 6-degreex70mm
Edited 8/26/2014: upgrade wheels to 2012 Easton Haven's for $375 (bought off pinkbike.com).
Installing the Haven's and going tubeless got the weight of my bike down to 29lbs 14oz. This is the lightest that this bike has ever been.  The bike weighed 31.5lbs with the Azonics wheels and tubed tires.